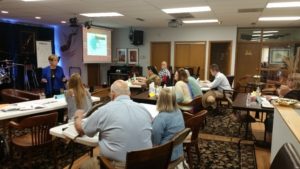 This is the first of four levels of Immanuel Practicum seminars Pastor Patti presents on Dr. Karl Lehman's Immanuel Approach. However, she thinks that the Beginning Immanuel Practicum Seminar is the most important. In it she gives the Biblical evidence for intimacy with Immanuel, demonstrates how to perceive Him in the Spirit, explains the brain science which forms the basis for inner healing, and teaches how to coach as well as receive the Immanuel Approach. Pastor Patti has seen Immanuel change lives in the first day of this seminar through intimacy with Jesus. She agrees with Dr. Lehman that the Immanuel Approach is the easiest, safest and most effective approach to inner healing as well.
Pastor Patti requires attendance at this Beginning Immanuel Practicum Seminar and reading her book, Immanuel: A Practicum for attendance at her other Immanuel seminars – Advanced Immanuel Practicum, Advanced 2 Immanuel Practicum, and the Immanuel Practicum Presenters seminar. Note: the required minimum of attendees does not apply to these Advanced seminars.
Seminar Logistical Parameters
1.) Calvary Way International Fellowship (CWIF) pays for Pastor Patti's and her husband Mike's travel.
2.) Local expenses such as their room (in a hotel similar to Hampton Inn or better), meals, and local transportation will need to be provided by the host. They generally do not stay in private homes as hotels are the preferred choice. The host will provide the meeting room/rooms.
3.) The registration cost is equivalent $75 per person (USD). Everyone pays the full price even if they can only stay for part of the seminar.  Make checks payable to Patti Velotta.
4.) Pastor Patti's minimum registration cost is $1,500 (USD).  That represents 20 people @ $75. The host guarantees this $1,500 regardless of no-shows. If there are more than 20 people, Pastor Patti would be paid the additional registration income as well.
5.) Registration for the organizer handling the details is free (1 individual).
6.) Registered attendees of the Beginning Immanuel Practicum Seminar will receive the book Immanuel: A Practicum for free.
7.) Attendance the first day is mandatory unless attendees receive permission from Pastor Patti beforehand.
8.) The seminar takes three days or parts of three days. Normally, she does 9:30 a.m. to 4:30 p.m. This is ideal. But depending on the group's availability, Pastor Patti is willing to have less time with your group if that is what they can do. Sometimes, she teaches Thursday night and then all day Friday and Saturday. Others prefer Saturday and Sunday. The timing is flexible.
9.) Pastor uses a white board with thick dry erase markers and an eraser to be provided by host.
10.) She will need a mike. Lapel mikes are much easier than hand held ones. PLEASE NOTE: Pastor Patti does not allow video or audio recordings to be made of the seminar.
11.) Pastor Patti uses video clips as part of her teaching, so she needs a means for displaying her clips to the attendees such as DVD or computer to a TV or projection system.
12.) Often, Pastor Patti brings a book table with primarily intimacy-related materials. She will need a large table to display the books and CD's.
13.) Everybody will need a name tag that has first name only written with large dark legible print. It really helps everyone if they can bring their name tags every day.
14.) Pastor Patti will provide all applicable handouts for the seminar participants.
15.) Pastor Patti will not be able to do Individual Immanuel sessions other than for those selected for live demonstrations during the seminar.