About Us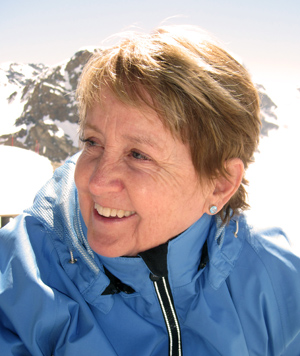 Pastor Patti Velotta has served Calvary Way Int'l Fellowship for over 20 years as Pastor. She was ordained in 1992 after receiving her Master of Divinity from Trinity Evangelical Divinity School in 1991, where she also served for three years as Dean of Women and Assistant Dean of Students.
She is also President of Three Cord Ministries, Inc., an affiliate of CWIF. "This Joy!" Books, a division of Three Cord, published Dr. Karl Lehman's book "Outsmarting Yourself."
Pastor Patti teaches the foundational truths of Biblical Christian faith. She is a woman called by Jesus into the ministry to equip others and to position individuals in order to build up the Body of Christ. She actively follows Jesus as He asks her to teach, preach and bring healing to His Body.
She has been married for 43 years to Mike. They have three daughters, two sons-in-law and six grandchildren.
Pastor Patti has made Immanuel her lifestyle.
Healing Perspective
The Immanuel Approach to emotional healing has been life giving to me.  As I mentioned in my book, it is not the only inner healing approach that heals nor is it all we need.  However, I agree with Dr. Karl Lehman who says in his book, Outsmarting Yourself, that from his experience the Immanuel Approach is the safest, easiest, and most effective approach to inner/emotional healing.  He also recognizes that the greater goal of the Immanuel Approach is intimacy with God, Immanuel, God With Us.  From that intimacy, we experience emotional healing as a byproduct and the Immanuel Approach becomes an approach to life as we walk with Him.
My husband, Mike and I are in a close association called Joel's Well with two other ministries.  We value and submit to each other as friends and co-laborers in Christ.  Dr. Paul and Donna Cox of Aslan's Place (Discernment and Generational Deliverance), Larry and Jacqueline Pearson of Lion Sword Ministries  (Prophetic Ministry, Life Coaching and Worship);  Mike and I of Calvary Way International Fellowship (Intimacy and Inner Healing through the Immanuel Approach).
There is a place for each of these emphases.  We are thankful to our Heavenly Father, Jesus and the Holy Spirit for the opportunity to receive and share His gracious gifts and bless others who are doing the same.
---
The Immanuel Practicum Web Team
Mike Velotta – Mike handles all of the technology when Pastor Patti is teaching.  He is responsible for the audio and video recordings as well as the production and editing of the content.
David McKinney – David is the designer of the website and webmaster.  He handles editing of the content and is a frequent contributor to the content.
Bob Wieland – Bob is responsible for website editing and design. He is a frequent contributor to the content of the website as well as managing the content on the Facebook and Youtube pages.